Senior Vice President, Impact Advisory, Jordan Park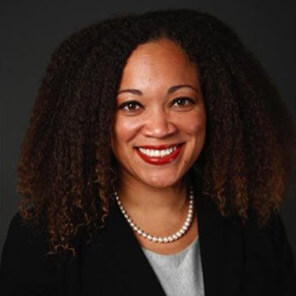 Lauren Booker Allen leads the impact advisory practice at Jordan Park, which provides investment management and financial advice to a distinct community of individuals, families, and institutions. Prior to Jordan Park, Lauren was Senior Manager of Impact Investing at Omidyar Network, where she managed investments, strategic partnerships, and thought leadership initiatives to drive the firm's impact investing and philanthropy industry development efforts globally, often advising individuals, family offices, foundations, entrepreneurs, and asset managers. Previously, Lauren worked at Goldman Sachs in the healthcare investment banking, global compliance, and training and communications groups. Lauren is the Vice Chair of the Jackie Robinson Foundation (JRF) Pacific Northwest Regional Scholar Advisory Committee and an alumni mentor of Management Leadership for Tomorrow (MLT). Lauren earned her BA in American and Urban Studies from Yale University and MBA from Harvard Business School.
Lauren has been interviewed at more than 30 impact investing industry events including GIIN, SOCAP, Giving Pledge, Social Finance Forum, Opal, High Water Women, Big Path Capital, Economic International Forum of the Americas, Change Catalyst, Google Tech & Inclusion, Morgan Stanley and BlackRock sustainable investing conferences, Harvard Social Enterprise Conference, and Independent Sector.