Creating Impact with Every Deposited Dollar 
Momentum in investing for good continues to build—with more than $35 trillion, or a third of global assets under management, dedicated to ESG strategies—and yet, many investors overlook a massive coffer of capital that could be put to work toward beneficial ends: the cash deposits in their accounts, totaling over $17 trillion in the U.S. alone.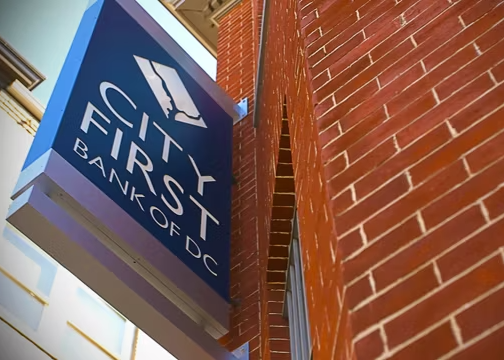 Financial institutions, and the choices they make when they invest the trillions of dollars in deposits entrusted to them, play a meaningful role in shaping communities and lives. Their investments could be strengthening historically underserved communities and supporting economic justice — or they could be pouring financing into, for example, expanding fossil fuel projects. (In 2022, the world's top banks collectively provided $673 billion in financing to the fossil fuel industry, despite their pledges to achieve carbon neutrality.)
Though many impact-driven depositors may not realize it, they get to decide which type of mission their cash is working toward: one aligned with a set of values they'd never support—or with their own.
There Are Better Options for Values-Focused Depositors
When cash deposits are channeled to institutions that have a community focus as an integral part of their mission, that money becomes a force for good.
Financial institutions like community banks, credit unions, and CDFIs (community development financial institutions) have the community-focus built into their structures. Credit unions, for example, are member-owned and not-for-profit, and CDFIs must prove that they specialize in the provision of financial services in low-income communities to earn certification.
By their very definition, these are the institutions doing crucial work like providing low-interest loans to enable homeownership, job creation, and the development of community cornerstones like schools, health care centers, non-profit organizations, and more.
ImpactAssets believes it's critical to be intentional with all assets, including cash, and is one of the largest depositors to Washington D.C.-based CDFI, City First Bank. City First Bank is also the biggest Black-led Minority Deposit Institution (MDI) in the U.S., and has a clear mission-focused mandate dictating how it invests depositors' capital.
"It's so important to our mission at ImpactAssets that we are working with values-aligned partners at every touchpoint," says Alice Lowenstein, ImpactAssets Chief Operating Officer.  "That extends to our banking partners like City First Bank, where our deposits can support the bank's community development work."
City First Bank emerged from a 2021 merger between two banks with multi-decade legacies as institutions working to address discrimination and disinvestment in low-income and underserved communities. The first, Broadway Federal Savings and Loan, was founded in Los Angeles after World War II to serve returning African American veterans routinely denied access to credit. The second, City First Bank, was established in the late 1990s by community members gathered in a Washington, D.C., church basement with a similar complaint—the persistent lack of access to financial services in communities of color.
"We were not founded just to be a bank," says Cynthia Newell, Chief of Staff at City First Bank. "We were founded for the purpose of community development, in particular for excluded racial groups. And since the merger, we're seeking to achieve impact at scale."
Today, City First Bank's assets total $1.2 billion — with nearly 70% of its lending deployed toward its mission. City First Bank's commercial lending specifically targets affordable housing, not-for-profits, and small businesses within low- and moderate-income neighborhoods in the D.C. and Los Angeles regions.
Last year alone, City First Bank provided $173 million in loans for affordable housing, creating or preserving 1,463 residential units. Some of the largest Black developers of affordable housing received their first loan from City First Bank decades ago, and have continued doing business with the bank. By developing long-term relationships and offering affordable loans to these Black developers, City First Bank plays a crucial part in enabling the creation and preservation of affordable residential developments —benefiting whole communities. City First Bank also provided $31 million in loans to not-for-profits in 2022, enabling the provision of services to an additional 568 community members.
Newell emphasizes that in doing this work, City First Bank does not assume more risk than other banks. "We manage risk differently than other banks do," she says. Central to the bank's distinct approach to risk management is an acknowledgement of the persistent bias long built into the financial system when it comes to underwriting diverse borrowers.
More Depositors "In It for the Mission" Are Needed
None of this community-strengthening lending is possible without depositors who opt to do business with mission-aligned financial institutions like City First Bank. "Any increases in deposits have direct implications on our ability to service more customers," Newell says.
Depositors ready to make their cash work for the common good have options. The U.S. alone has over 1,300 CDFIs (though not all of these are depository institutions) and more than five thousand credit unions. Resources like Mighty Deposits can help depositors find CDFIs, credit unions, or community banks based on geography, services, or specific issue areas like environmental sustainability or racial justice.
In a recent meeting of several CDFIs, Newell says, leaders tallied a collective need of 40 billion dollars in new deposits at minority depository institutions in order to meet their goals — and to continue to grow.
"Additional deposits would mean we could do more of what we're already doing," Newell says. "More affordable housing lending, more not-for-profit lending, more small-business lending. Other CDFIs could expand mortgage programs or other commercial real estate lending in majority minority, low-income communities."
But CDFIs won't be able to do the work of lending, expanding, and influencing a new type of financial system unless investors become more conscious of their cash management strategies, and choose to deposit for impact.
LEGAL AND PROGRAM DISCLAIMER: This is not a solicitation to buy or sell securities, nor a private placement offering. Nor is this an endorsement of any of the featured financial institutions. It is intended for informational, educational and discussion purposes only.