The Confluence of Three Megatrends: An Opportunity of a Generation
By Pawan Mehra, cKers Finance
This is part three of a six-part series, Breakthrough Strategies with Emerging Managers, in partnership with Confluence Philanthropy to lift up the voices of emerging fund managers, sharing their perspectives and experiences, as they shine a light into the challenges and the opportunities in this unique ecosystem.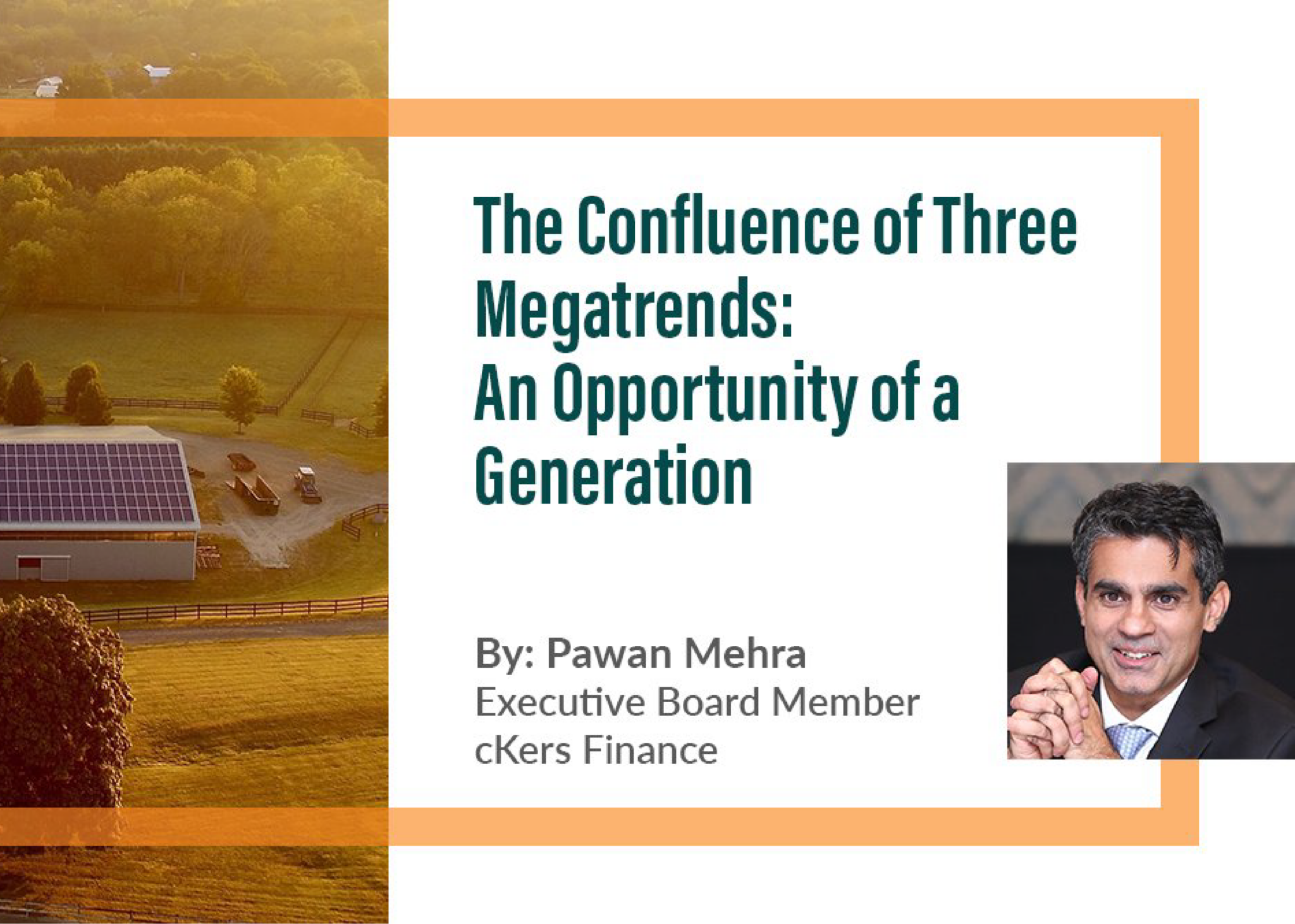 In the coming years, electric vehicles, rooftop solar, and other digitally enabled climate assets are set to experience a rapid uptake among small and medium-sized enterprises (SMEs) as these businesses ride the confluence of three megatrends: sustainability, digitization and the formalization of credit. This provides an opportunity to develop innovative financing products that provide access to credit for SMEs tackling global, especially within developing countries.
The most recent emerging megatrend has been the drive towards sustainability. According to the World Economic Forum, making sustainable investments could unlock up to $12 trillion of economic value globally by 2030[i]. This could create 380 million jobs and reduce greenhouse gas emissions by as much as 17 gigatons relative to a business-as-usual scenario over the next 10 years. These figures encompass opportunities in four major areas: sustainable cities, land use, food and agriculture, and energy and materials.
The way we generate and consume energy is one area that is rapidly changing. Within a decade, our century-old electricity and transportation infrastructure will stand transformed. Electric vehicles (EV) will be the norm and we are already seeing this shift taking root. For instance, over 50% of new small commercial vehicle sales in a city like New Delhi are EVs, as compared to less than 5% two years ago. A similar area on the cusp of exploding is rooftop solar.
These changes are accelerating in emerging markets where costs of energy (fossil fuel and electricity) are high and policies are conducive for the transition. And we can expect to see more impact from the sustainability megatrend with more breakthrough innovation over the next two decades.
The two other megatrends, digitization and the formalization of credit, have been around for longer. Digitization has been growing over the last two decades, increasing productivity as well as reducing the cost of developing and delivering financial services. And over the last decade, it has enabled access of credit (and capital) to many who have previously had to rely on informal financing networks.
The rise of digitally enabled climate assets presents an exciting avenue for growth. EVs and rooftop solar are examples of climate assets that produce a lot of information with their use. Coupled with the formalization of credit in emerging markets and especially for SMEs, the growth of digitally enabled climate assets opens new possibilities.
SMEs play a critical role in the economy, but they often face significant challenges in accessing financing. They account for more than 90% of all businesses globally and make up 44% of global GDP (higher in emerging markets)[ii]. However, with the data from the climate assets, a lot of the risks can be managed, making them increasingly financeable.
For instance, at cKers Finance, we have developed asset-based risk predictors and value-at-risk measures, based on asset performance, loan balance and salvage value. We are also able to predict timing/ likelihood of purchase of replacement panels/ battery or insurance or second loan, based on payment and usage patterns (i.e. income or saving generated). This has allowed cKers Finance to finance EV driver-owners as well as rooftop solar SMEs.
We are also seeing the emergence of rental and leasing models using the same underlying data principles. We expect to see a proliferation of climate-entrepreneurs and franchises that will be built on digitally enabled climate assets.
Imagine that 1.4 billion vehicles across the globe (more than half of which are in emerging markets) will become electric in the next 20 years. And further imagine that in a similar timeframe, our century-old electricity system will be replaced by the next generation infrastructure which will be renewable. The shift will create new enterprises and skilled jobs, while reducing greenhouse gas emissions and building more sustainable infrastructure for our planet.
The transformation is just beginning.
Breakthrough Strategies with Emerging Managers is a partnership between Confluence Philanthropy and ImpactAssets.
LEGAL AND PROGRAM DISCLAIMER: LEGAL AND PROGRAM DISCLAIMER: This is not a solicitation to buy or sell securities, nor a private placement offering. Nor is this an endorsement of any of the featured impact fund managers. It is intended for informational, educational and discussion purposes only.